November 15, 2019
Van Hollen Names Baltimore Child Abuse Center as 2019 "Angel in Adoption"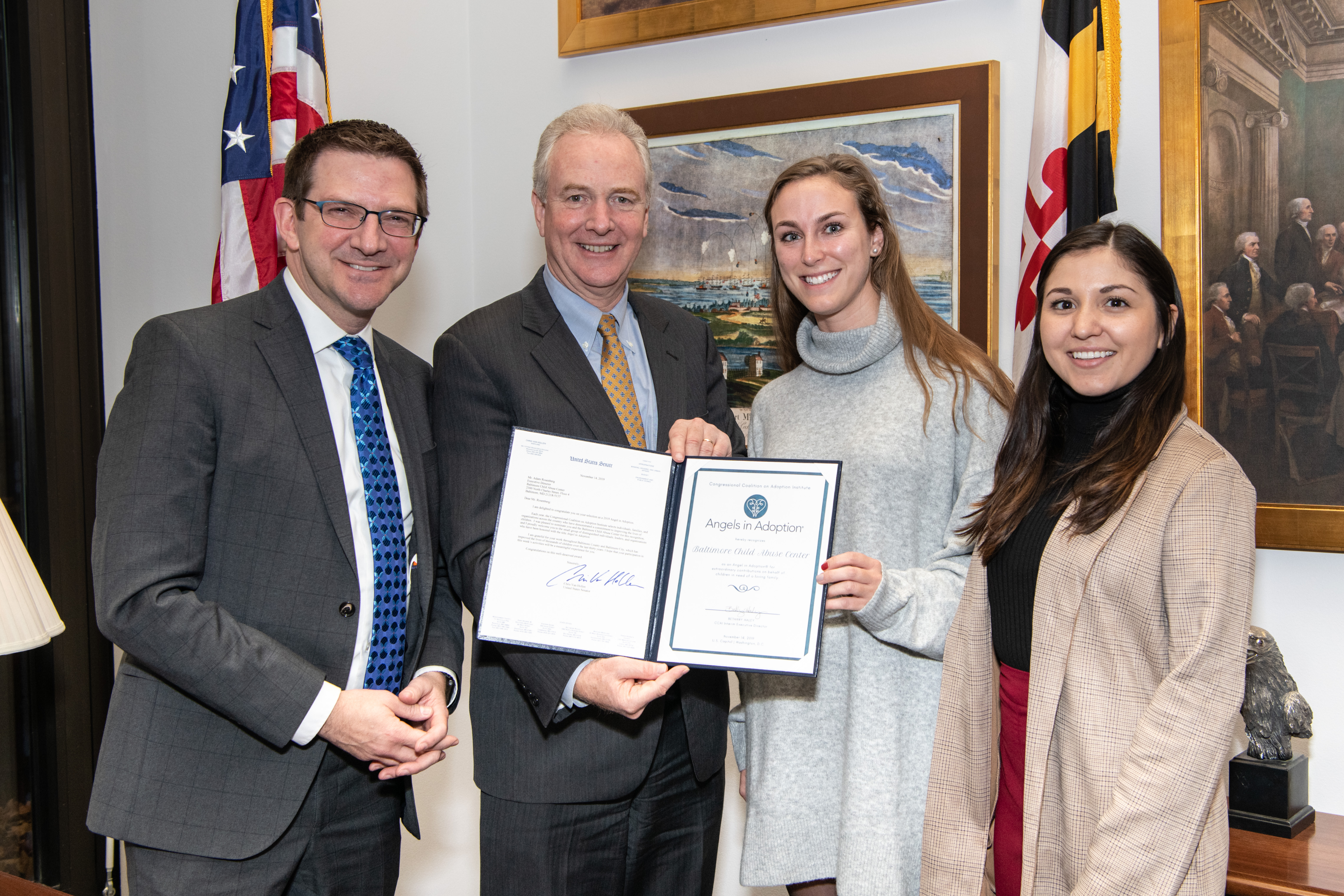 Van Hollen meets with Adam Rosenberg, Baltimore Child Abuse Center Executive Director and their staff in his Washington, DC office
U.S. Senator Chris Van Hollen (D-Md.) has named the Baltimore Child Abuse Center (BCAC) as his 2019 Angels in Adoption Honoree. BCAC, one of Maryland's leading child welfare resources, was given this award as part of the annual Congressional Coalition on Adoption Institute (CCAI) event. BCAC's Board-certified child abuse pediatricians and other medical professionals are experts in child abuse and neglect and are uniquely equipped to provide child-sensitive medical exams to children in the City who are entering foster care. As more children enter the foster care system, BCAC is prepared to provide the needed services to these at-risk youth.
"The Baltimore Child Abuse Center has made a transformative difference in the lives of children in foster care in Baltimore. Their work truly deserves recognition, which is why I was proud to name them my 2019 Angel in Adoption. I will continue working in the Senate and with our community partners to improve the lives of children across our state," said Senator Van Hollen.
"The hard work of our team often comes in the quiet hours of the night and may sometimes go unnoticed. We are so grateful to be recognized by Senator Van Hollen, who cares very deeply about these issues affecting children and our mission of responding to and preventing violence and trauma for those who may not be able to advocate for themselves," said Adam Rosenberg, Executive Director of the Baltimore Child Abuse Center.
CCAI's Angels in Adoption Program honors a wide spectrum of individuals and organizations making extraordinary contributions to adoption, permanency, and child welfare. Each year, the Angels in Adoption honorees travel to Washington, DC to both celebrate their hard work and dedication to the issues and participate in special events designed to engage them in using their personal experience to effect change on behalf of children in need of families.
###
---
---
Next Article
Previous Article