May 31, 2018
Van Hollen Focuses on Economic Growth in Cecil County
U.S. Senator Chris Van Hollen (D-Md.) spent Wednesday in Cecil County discussing ways to promote good paying jobs and ensure good schools and a high-quality health care system. During the day, he met with the leaders and employees of some of the area's biggest employers, including Orbital ATK, W.L. Gore & Associates, and an Amazon Fulfillment Center. He also met with leaders of the Upper Bay Counseling and Support Services in Elkton and spoke with many of their clients. Additionally, the Senator had a good discussion about our education system with Dr. D'Ette Devine, the Superintendent of Cecil County Public Schools, and thanked her for her long and excellent service to the students of Cecil County. At every stop, the Senator focused on measures needed to build a strong workforce and attract jobs with good pay and benefits.
"Our economic strength starts with well-funded schools for our kids and continues with life-long job training. It also means we must invest in the key areas that bring good-paying jobs to our state, including infrastructure and innovative research and development. And Maryland cannot succeed without quality health care services," said Senator Van Hollen. "At every stop, I had the chance to speak with people who are working hard and are committed to helping our state be the best it can be. I'm fighting in the U.S. Senate to make sure that we have the resources we need to succeed."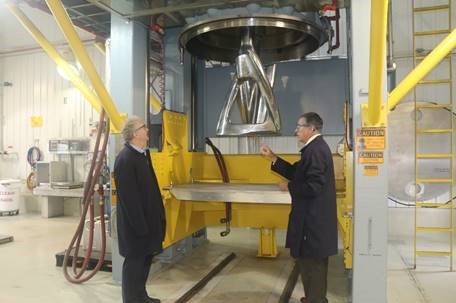 Senator Van Hollen tours Orbital ATK's Elkton facility and speaks with company employees. Orbital ATK develops aerospace and defense technologies and has four locations in Maryland. The Elkton facility specializes in missile defense systems. Senator Van Hollen spoke with employees about their innovative work and the importance of STEM education in securing a pipeline of Maryland workers prepared to fuel this industry.
Senator Van Hollen visits W.L. Gore & Associates' Technically Oriented Fabrics Division in Elkton. He viewed Gore's Heat & Flame Protection Sciences Laboratory and their Biophysics Lab – labs that are used to develop and test high-performing materials – and met with a group of employees. Gore's first plant in Cecil County was built in 1972; and the company currently employs approximately 2,400 associates across 14 facilities in Cecil County, including Gore's largest research and development facility. Senator Van Hollen discussed his efforts to keep good-paying manufacturing and research and development jobs in Maryland.
Senator Van Hollen tours Amazon's Fulfillment Center in North East. The Center employs over 1,000 Marylanders, and Amazon as a whole employs over 5,000 residents across our state. During the tour, he spoke about the importance of creating and growing local job opportunities in Maryland.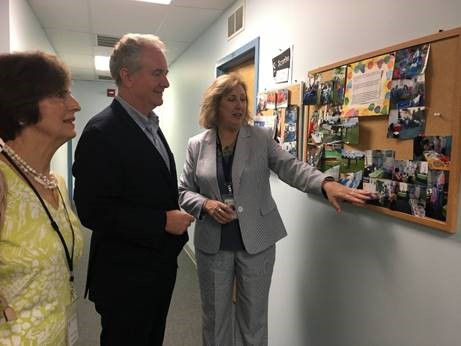 Senator Van Hollen visits with employees at Upper Bay Counseling and Support Services, one of the largest behavioral and mental health providers in the region. He also spoke with patients about his efforts to protect and ensure access to healthcare, especially behavioral and mental health services.
Senator Van Hollen meets with Dr. D'Ette Devine, the Superintendent of Cecil County Public Schools, to discuss challenges and opportunities facing the school system and to congratulate her on her retirement after 42 years of working in Cecil County schools.
---
---
Next Article
Previous Article