May 10, 2022
Van Hollen, Cardin Announce Federal Funding for Bowie State University Innovation Programs
$4 Million in Congressionally Directed Spending will Support Business Accelerator Program Expansion and Hydroponics Research at Maryland's Oldest HBCU
Today, U.S. Senate Appropriations Financial Services and General Government Subcommittee Chair Chris Van Hollen and U.S. Senate Committee on Small Business & Entrepreneurship Chair Ben Cardin and (both D-Md.) announced $4 million in congressionally directed spending to support innovation programs at Bowie State University, the oldest Historically Black College and University (HBCU) in Maryland. The senators secured $3 million for the Bowie Business Innovation Center (Bowie BIC), as well as $1 million for the university to develop a new laboratory for hydroponics research.
In addition to the announcement, the senators joined university President Dr. Aminta H. Breaux, Bowie BIC Executive Director Lisa S. Smith, graduates of the Bowie BIC business accelerator programs, entrepreneurs, and regional small business leaders for a listening session about the challenges facing Prince George's County entrepreneurs and small businesses. The senators also heard from graduates of Bowie BIC's 8(a) Accelerator Program, who informed the senators about their experience navigating the federal contracting process.
"The Bowie Business Innovation Center is a pioneering initiative providing underserved small businesses with the tools they need to succeed and better position them to obtain government contracts. That's why I was proud to join Senator Cardin in supporting a $3 million federal investment for the BIC within the federal funding bill this year," said Senator Van Hollen. "With these funds Bowie State will be able to expand services for Marylanders – and the Bowie BIC will help other HBCUs around the country replicate its success. We will keep working to bring more growth opportunities by leveraging federal investments to Bowie State and all of our state's HBCUs, which play an integral role in opening the doors to opportunity to people across Maryland."
"The COVID-19 pandemic demonstrated that our nation's HBCUs are perfectly situated to help connect minorities, women, and other underserved entrepreneurs to the services and resources they need to succeed," Cardin said. "The $3 million in congressionally directed funding will increase the Bowie Business Innovation Center's capacity to help underserved entrepreneurs more than ten-fold. The Bowie BIC inspired my UPLIFT Act, which would create a national network of accelerators and incubators on HBCU, MSI, and community college campuses. I remain hopeful that we will pass this legislation to tap into the entrepreneurial spirit that is surging through our communities."
"The $3 million received in federal funding will help to create the Bowie BIC Center of Excellence pilot program that will deliver targeted resources to strengthen HBCUs," said Aminta Breaux, President of Bowie State University. "The program will also expand the existing work of the only 8(a) Accelerator Program in the country. We are grateful to Senator Cardin for helping us to secure the necessary funds to ensure continued success. This additional support will allow for the expansion and replication of the Bowie BIC 8(a) Accelerator Program mode through partnerships with other HBCUs. Additionally, we thank Senator Van Hollen for his work in securing $1 million to develop the Laboratory for Hydroponics and Aquaponics Research at Bowie State University."
The new $3 million direct federal funding award to establish the Bowie BIC Center of Excellence for 8(a) Government Contracting at Bowie State University is a historic development," said Lisa S. Smith, Executive Director of the Bowie BIC, a non-profit business accelerator located at Bowie State University. "We are truly grateful to Senator Cardin and Senator Van Hollen for their work to secure this funding. With this funding, our award-winning 8(a) Accelerator Program can be expanded through the Center of Excellence and become a new resource for HBCU's in America by helping socially and economically disadvantaged companies participate fully in the U.S Small Business Administration (SBA) 8(a) Program and win government contracts that build wealth for the contractors, and bring jobs to their communities."
The award-winning Bowie Business Innovation Center 8(a) Accelerator program—the first in America—is a fast track for helping certified U.S. Small Business Administration (SBA) contractors in the SBA 8(a) Business Development program win federal government contracts. Bowie BIC's 8(a) Accelerator program focuses on the development of a targeted federal capture strategy, mentoring and networking.
The senators also secured $1 million in direct funding for the Bowie State University Laboratory for Hydroponics Research to position Bowie State students and researchers at the forefront of cutting-edge research in plant biology and agriculture.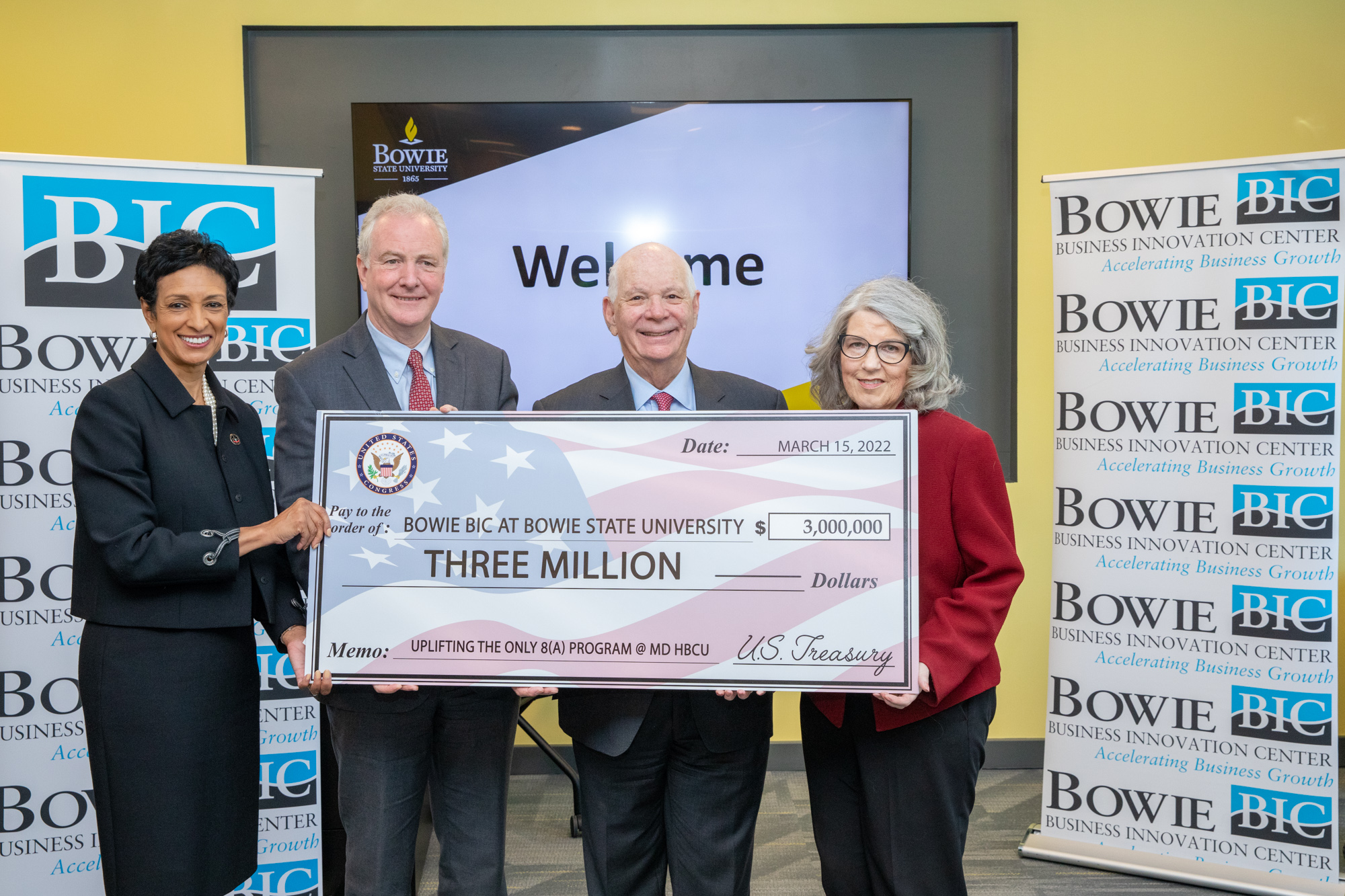 Senators Cardin and Van Hollen present check to Bowie BIC Executive Director Lisa Smith and BSU President Aminta Breaux (Photo/BSU)
Senators Cardin and Van Hollen pose for photo with Bowie Mayor Tim Adams, Breaux, Smith, and Bowie BIC board members and graduates (Photo/BSU)
---
---
Next Article
Previous Article